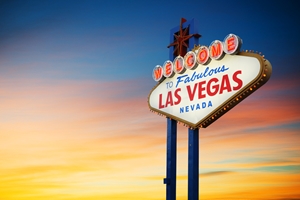 6/10/2014
The bright lights, the gleaming, skyscraping casinos, the colorful and grandiose stage shows - there are few destinations in the U.S. more glamorous than Las Vegas. Nestled in the middle of the Nevada desert, the city stands like an oasis in the middle of the sands. Whether you're looking to try your luck and seek your fortune or looking for a honeymoon travel destination, it may be time to plan a trip to Las Vegas.
Chasing the frontier
According to History, the region we now know as Las Vegas has been populated for as long as 10,000 years, and evidence suggests that later, in 700 A.D., the Paiute Native American tribe also inhabited the area. However, it wasn't until over a millennia later that the city began to develop its more modern identity. In 1821, the region was scouted by Rafael Rivera as part of an attempt to develop trade between New Mexico and California. In 1905 the burgeoning settlement was connected to major western U.S. hubs via railroad, and Las Vegas officially incorporated as a city in 1911.
Almost since its inception, the city has been notoriously synonymous with gambling. The practice was outlawed by the state in 1910, but was kept alive in illegal underground casinos. In 1931 when gambling was legalized once more, the city had already established itself as a prime destination for casinos and speakeasies.
A wealth of entertainment
Despite its main reputation as a hub for casinos, bars and other similar kinds of adult entertainment, Las Vegas offers an abundance of attractions for travelers of all ages. AOL Travel reported that the city's famous casinos such as the Bellagio and the MGM Grand are definitely entertainment focal points, offering not only the glitz and glamor of the high roller lifestyle but also impressive stage shows. However, if you're looking for something a bit slower paced there is still plenty to see and do in Las Vegas.
Vegas.com recommended Floyd Lamb State Park for anyone looking for a pleasant bit of natural beauty while visiting Nevada's entertainment capital. A great picnic spot and location of the famous Tule Springs Ranch, it's the perfect spot for a getaway from the everyday hustle and bustle of Las Vegas.
History buffs will find plenty to love as well. The iconic Hoover Dam hosts more than a million visitors every year, according to Vegas.com. In 2011, the Mob Museum also opened its doors, shining a spotlight on some of the city's more sordid history.