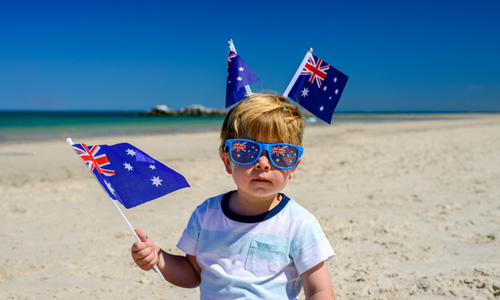 01/20/2021
January 26 marks Australia Day. A day spent celebrating the rich cultural diversity of the continent, you can find friends and family holding barbecues, enjoying fireworks and participating in other festivities you would associate with a major national holiday.
Whether you're planning on visiting the land down under in the future or want to know more about this culturally significant day, we can help. Here's everything you need to know about Australia Day along with some travel inspiration to feed your wanderlust.
A celebration of a diverse nation
What started as a celebration of the first British ships arriving on the continent in 1788 has evolved over the decades to be an Australian-focused and inclusive event.
Today, Australia Day is a commemoration of all things that make the country unique. The National Australia Day Council (NADC) explained that there is a special emphasis on remembering the people who make Australia the country that it is today. After all, the history of Australia started long before the British arrived.
NADC elaborated that the holiday "is about acknowledging and celebrating the contribution that every Australian makes to our contemporary and dynamic nation. From our Aboriginal and Torres Strait Islander people...to those who have come from all corners of the globe to call our country home."
With more than 65,000 years of history and new citizens being welcomed each day, there's plenty to celebrate about the people that make Australia a unique and amazing place to both live and visit.
How to celebrate
As you can imagine, such a significant holiday has plenty of festivities to match. One long standing tradition is welcoming new citizens into the country. According to NDAC, over 16,000 new Australians become citizens on this important day.
Of course, there are many other state and local activities any Australian can also participate on during the holiday. Tourism Australia highlighted a few of the ways Australia Day is celebrated across the continent:
Barbeques are one of the most popular ways to commemorate the national public holiday. With a day off from work, many Australians gather together at their homes or on the beach to beat the heat of the summer and enjoy food and drinks.
Firework displays are the perfect way to end the day. Many of Australia's major cities put on extravagant firework displays to conclude the other festivity of the day. If you're in the area, head to a local dock or enjoy the show from your deck if you're close enough.
Outdoor parades and concerts are put in in many states and towns in Australia to celebrate the day and are free to view.
Don't miss this on your next visit!
While your travel plans may be on pause for the time being, it doesn't hurt to begin gathering inspiration for a future trip when the moment is right. No matter which season you visit, here are some ways you can be immersed in a cultural experience and leave a positive impact:
Stay in an Aboriginal-owned lodge: Tourism Australia highlighted this unique and often sustainable way to spend your time in the country. Opt to explore the region with an Aboriginal guide to learn more about their values and living sustainably in nature.
Purchase local goods: While it can be tempting to purchase a souvenir from a tourist shop, take the time to find goods made in Australia and support local artisans.
Donate to wildlife recovery: Bushfires impacted much of Australia in 2020, but that shouldn't stop you from enjoying the wildlife on your visit. Many parks are still open, so make sure to plan a visit and make a donation that contributes to wildlife recovery.
Even if you're not in Australia during their national holiday you can still appreciate the diversity and history of the continent on your next visit!
_____
Sources:
https://www.australiaday.org.au/about/
https://www.australia.com/en-us/events/arts-culture-and-music/australia-day.html
https://www.australia.com/en-us/things-to-do/sustainable-travel/sustainable-holiday-ideas.html