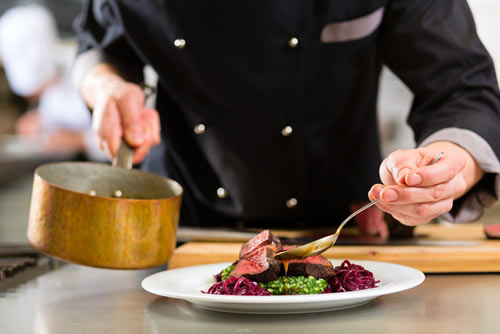 9/15/2016
If you're a frequent traveler, you probably know that restaurants can get a little pricey depending on where you are in the world. Most of the time, people aren't looking to spend more than the average amount on their meals, but when you're table is located underneath a sea filled with exotic fish or in a Versailles-style dining room illuminated by crystal chandeliers, the idea of expensive food becomes a lot more enticing.
If you're looking to splurge on a meal along your journey, keep an eye out for these one-of-a-kind eateries where the experience is worth the price.
1. Sublimotion, Ibiza, Spain
Elite Traveler magazine recommended Sublimotion for travelers staying at the Hard Rock Hotel on Playa de Bossa and who aren't opposed to dishing out the big bucks for a meal. The intimate setting is established by the subtle neon lighting and the 12-person venue.
The 20-course meal comes with a hefty price tag at over $2,000 per person. Michelin Star-rated chef Paco Roncero explained that the unique restaurant combines great food, technology and art for the ultimate sensory experience that's well worth the cost.
2. Restaurant Le Meurice, Paris
The luxurious palaces located around France, including the Palace of Versailles, are major destinations for people traveling across the country. What attracts most travelers is the rich history, elegant features and element of grandeur that encompass these fancy accommodations that were once home to some of France's most elite families. Taking a tour is fun, but why not have dinner at one?
Inspired by the Salon de la Paix at the Chateau de Versailles, the Restaurant Le Meurice in Paris is where world-renowned chef Alain Ducasse whips up a selection of cheeses and desserts along with three additional specialties, such as veal sweetbreads, for $524 per person, according to his website. The bronze and marble decor and the breathtaking views of the surrounding Jardin des Tuileries make the restaurant truly unique.
3. Ithaa Undersea Restaurant, Maldives
If dining with some of the sea's rarest creations sounds like a dream come true to you, then the $320 meal at Ithaa will be well worth it. The exotic eatery sits over 16 feet below the surface of the Indian Ocean and features glass ceilings and walls for a 180 degree view of the sharks and fish swimming around you.
Conde Nast Traveler noted that the menu consists of a six-course meal including indulgences like reef fish caviar. If you want the whole family to join, it will cost you even more, usually around $500 per person without drinks or tips included. Just be sure that everyone is sporting appropriate attire, as the restaurant takes its dress code seriously.
4. Masa, New York City
The Big Apple's Masa is where travelers will find one of Japan's most famous culinary geniuses, Chef Masa Takayama, cooking up mouthwatering seafood dishes. Often considered the best sushi restaurant in the city, there are dozens of rare exotic seafood flown straight from Japan. Aside from its delicious meals, the eatery is also known for its minimalist appearance based on the idea that simple is better.
You can try a few options on the tasting menu for $450, but if you're looking to indulge in the multi-course meal including appetizers, sushi plates and dessert, the price soars to about $600 per person.
5. Tru, Chicago
Chicago's Tru has earned four stars from the Chicago Tribune in 1999 and again in 2010, an AAA Five Diamond Award and a Michelin star. Travelers flock to the restaurant for fine wines and a first-class French menu. Visitors get two options, including a six-course menu for $110 per guest and a nine-course meal for $145.