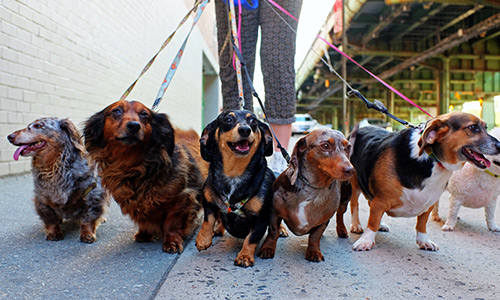 4/6/2021
Sometimes a vacation just isn't complete without all of your loved ones around – and that includes furry four-legged friends. Pets are important members of the family, so bringing them along on vacation isn't a far-fetched idea. If you're considering taking your pet along for the ride, check out these pet friendly cities where all your family members (two-legged and four-legged) can feel right at home:
Portland, Oregon
With 37 off-leash dog parks, Portland has ample opportunity for your pooch to run around. But Portland has more than just dog parks to offer, it's also one of the most walkable large cities in the U.S., making a stroll with your four-legged friend even easier. Check out Portland Market where pets are welcome – there are even several vendors dedicated solely to pets. 
San Diego, California
Are you and your pet both beach bums? If so, a trip to San Diego could be just what you both need. San Diego has 18 off-leash dog parks as well as several off-leash dog beaches. If your canine friend is an athlete, San Diego hosts an annual dog surfing competition called Surf Dog Surf-A-Thon. Your dog could be the next surfing star!
Austin, Texas
Southern hospitality extends to pets in the Lone Star state. Austin has 17 off-leash dog parks to offer. If you're feeling hungry after your visit to one of the dog parks – Bow-Wow Bones is Austin's first mobile food truck for dogs. The truck offers a variety of healthy and natural pet treats as well as a range of toys and accessories for dogs.
San Francisco, California
San Francisco has a whopping 56 off-leash parks to discover! Pets are also allowed on trolley cars, so transportation with your furry friend is made easier (not to mention a cute photo op). There are also tons of restaurants that welcome pets at their outdoor tables – so no need to leave your dog behind while you dine out.
Wherever you decide to vacation, you'll be happier having your pet along for the ride, and your pet will be happy just being with you. If you plan to fly with your pet, make sure to check airline pet policies in advance so you don't run into any issues. 
Be sure and check out our Pet Bundle in our additional coverages to make sure your entire family has the coverage they need while on the go!