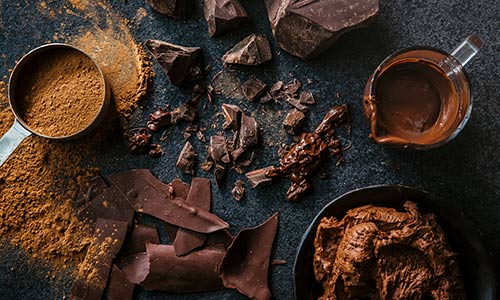 7/6/2021
Let's face it, chocolate is one of the best guilty pleasures around. No matter where you are in the world, there are delicious, chocolatey treats to be had. Where does some of the best chocolate come from? You might be surprised. 
Broc, Switzerland
Many famous chocolate brands call Switzerland home: Lindt, Toblerone and Nesquik®, just to name a few. It's no secret that Switzerland is widely known for their delicious Swiss chocolate, but there are still a few hidden chocolate gems to be found. For instance, The Swiss Chocolate Train includes a tour of the famous Cailler-Nestlé factory in Broc. 
Oaxaca, Mexico
Oaxaca is home to Mina Street, where small chocolate shops are abundant and sell all kinds of chocolate treats. While chocolate bars and sweets are everywhere, the most popular way to consume chocolate there is in hot milk or water to make either "chocolate de leche" or "chocolate de agua." The best hot chocolate is served foamy with a side of sweet bread. 
Brussels, Belgium
Over 172,000 tons of chocolate are produced in Belgium per year, and there are more than 2,000 chocolate shops throughout the small country (which is the size of Maryland).1 But perhaps the most famous chocolate that Belgium is known for is the praline – a layer of chocolate surrounding a soft fondant center. 
San Francisco, California
Fisherman's Wharf in San Francisco is home to one of the oldest and most historic chocolate factories in the United States – Ghirardelli.2 Each year this famous chocolate company hosts a Chocolate Festival in Ghirardelli Square. The festival is a two-day long celebration of chocolate with tastings, live music and ice-cream-eating contests. Tours of the chocolate factory are available, and you can visit the functioning old-school chocolate room in the basement of the factory.
Sources:
1: http://www.visitbelgium.com/?page=chocolate-lovers
2: http://gosanfrancisco.about.com/od/dining/a/The-Chocolate-Lovers-Guide-To-San-Francisco.htm