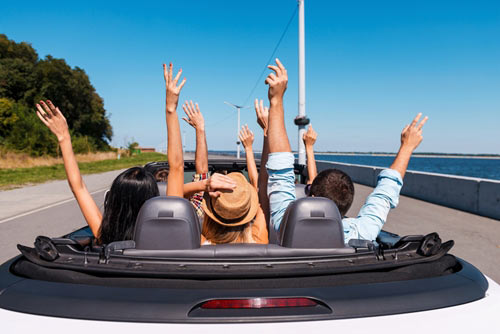 8/31/2017
Labor Day may be a holiday that celebrates the working people in the U.S., but it's ironically one of the most popular vacation weekends of the summer. After all, the holiday is often thought of as the last hurrah for beach lovers prior to cooler, rainier weather and for students before they head back to school. However, the long-awaited weekend can sneak up on you unless you plan ahead. If you haven't booked your Labor Day trip yet, there's still time. End the summer right and book your last-minute travel without breaking your budget.
Take a road trip
Whether you and your family or friends simply want to be spontaneous and see where the road takes you or have an exact destination in mind, road​ trips are a great way to spend your Labor Day Weekend. This way, you don't have to spend money on a last-minute flight and finding accommodation has never been easier with mobile apps like Hotel Tonight that let you reserve your room only a few hours before you arrive, according to the Travel Channel.
During your Labor Day weekend you probably want to spend a large portion of your time enjoying the outdoors. A road​ trip to the beach or to your favorite hiking spot may be just what you need to end the summer with a bang. Another great aspect of hitting the road is that you can make stops along the way to your destination, so if there's a mountain you've never hiked before or even a restaurant you've always wanted to try, add it to your list of pit stops.
Explore Washington D.C.
If you're a history buff and have never been to Washington D.C., book a trip this Labor Day weekend. Conde Nast Traveler magazine pointed out that average flight prices to the destination have gone down almost 10 percent for travelers looking to book a ticket for the holiday. Check out all of the area's most popular attractions, such as the Lincoln Memorial, and take advantage of temporary events at local museums. The online travel source noted that the Warner Theater offers guests a chance to see some of the country's most talented performers. Meanwhile, sights like the sculpture garden at the National Gallery of Art make a romantic spot if you've embarked on a couple's getaway.
Enjoy the beach at Maya Riviera
Hotspots in Mexico like Cancun are generally associated with an affordable beach vacation. However, don't overlook more tranquil destinations like the Maya Riviera, especially when booking your vacation this Labor Day. Frommer's explained that the El Dorado Maroma resort is perfect for adult-only trips. Guests get their own private spas with their rooms as well as access to a secluded beach. The best part? During Labor Day weekend prices dip to around $175 a night, a 25-percent decrease from the hotel's average rates. When you combine these savings with the one's you'll get from booking your flight using discount sites like Expedia and Cheapflights, you'll see that a last-minute escape to paradise is more affordable than you imagined.
Escape to the mountains of Vermont
Do you and your family love to bike, hike or simply explore the outdoors? The Daily Meal suggested that you take a trip to southern Vermont where you'll get one of the first glimpses of the vast green forests turn a lively yellow and red. The source also recommended the Windham Hill Inn for an affordable Labor Day trip. The quaint resort sits on 160 acres of land and features four trails to do everything from run to bike. On Labor Day weekend in particular, the hotel offers a three-course breakfast, afternoon tea and a cheese board every evening - all complimentary.