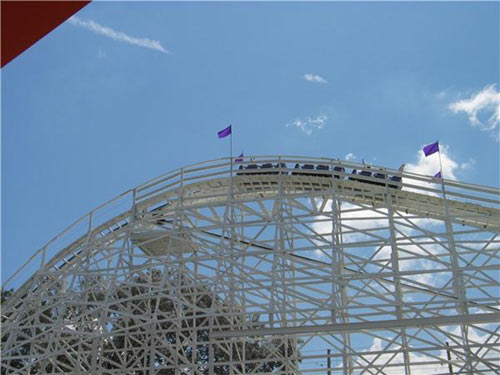 9/1/2016
Many travelers may get a thrill from winding and zigzagging down the twists and turns of roller coasters. However, people can't call themselves true theme park fanatics until they've braved the scariest rides in the world.
According to CNN, Stefan Zwanzger, the self-proclaimed globetrotting "Theme Park Guy", has spent years visiting domestic and international amusement parks to rank the most daunting rides in the business. Check out these attractions voted on by Zwanzger and frequent travelers as the most spine-tingling attractions designed for daredevils.
Eram Park's, Soda Can Coaster, Iran
When Zwanzger first stepped foot in Iran's Eram Park, he was taken aback by the decor, which consisted primarily of poorly drawn Mickey Mouse characters. When he saw the rusty roller coaster featuring several terrifying loops, he decided that he had to give it a try. His consensus: It's just as frightening as it looks.
Of all the roller coasters across the globe that Zwanzger has had the opportunity to experience, the loop on this particular ride was the most narrow he's ever seen, telling CNN that it's almost as if you can see the back of your own head as the coaster whips you around.
"One can hear the riders' joyful screams rise as the coaster plunges into the loop and vanish within a second after they enter into the murderous brain-turner itself. With every new rider, over and over, the same screams and same silence in the loop," said Zwanzger, according to TheThemeParkGuy.com.
X2 Six Flags Magic Mountain's Valencia, Los Angeles
According to Travel + Leisure magazine, Six Flags Magic Mountain in Los Angeles is home to the most thrilling four-dimensional roller coaster in the world. The ride has more than just heart-stopping drops where riders are plummeted head-first toward the ground, but 360-degree rotating seats to make the experience truly one of a kind.
After it was renovated in 2007 and opened again in 2010, it had additional features, such as more tunnels, visual enhancements and audio improvements that make the ride extra exciting. The seats were also updated to move back and forth and away from the tracks during twist and turns so people feel like they're flying.
Kathmandu's Fun Park's Ferris Wheel, Nepal
If travelers are looking for the traditional Ferris wheel, the one found in Kathmandu's Fun Park should be avoided. The park is small, but popular among locals and tourists. It features several water slides and a couple of additional rusty attractions.
Zwanzger explained that the most terrifying aspect of the ride was that it went at a speed five times faster than your average Ferris wheel, run by a rope loosely spinning around a circular contraption that appeared it could break at any moment. With very little holding passengers inside, Zwanzger watched as they nearly flew out of their seats and over the short railing every time they went around. The line was too long for him to board himself, but he wasn't sure he would've gave it a try anyway, which says a lot coming from one of the world's most famous thrill-seekers.
Action Park's Cannonball Loop, New Jersey
Although travelers are no longer able to ride the Cannonball Loop, Popular Mechanics magazine noted that it was one of the most dangerous water slides available to ride in a public amusement park. Perhaps this is why the park was forced to close in 1996 after being open for over 18 years.
"I've been to almost 300 theme and water parks now, but this is by far the scariest thing I've ever seen," Zwanzger told CNN.
Still, hundreds of amusement park enthusiasts braved the daunting waterslide, proving that you were in for a good time if you were courageous enough to try it.