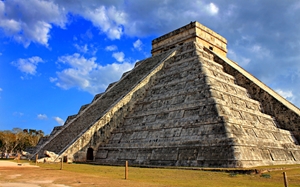 6/23/2014
Chichen Itza is one of the most popular destinations for Mexico travel and renowned for its alignment to the sun's cycles, but a new astronomical phenomenon has been recognized just within the past decade.
The serpent's shadow
El Castillo, the massive pyramid at the center of Chichen Itza, has long been admired for an illusion caused by the angle of the sun on spring and fall equinoxes. The setting sun causes the pyramid's terraces to cast a series of triangular shadows. During equinox periods, these shadows appear to writhe down the pyramid's sides like a serpent, according to San Francisco's Exploratorium. More than 1,000 travelers make their way to the site at this time of year to see the solar-powered show.
Celestial alignment
Though it is possible that the effect is a lucky mistake, other aspects of the pyramid's construction point to an intentional alignment. Perhaps the least subtle clues comes from the giant snake heads carved from stone that sit at the base of the steps. At the end of its journey down the side of the structure, the equinox shadows joins one of the heads, forming its body.
Less obvious, but more convincing, are the pyramid's structural parallels to the sun's path through the sky. The western side of the monument directly faces the setting sun on the day of the zenith passage, when the sun passes directly overhead in the tropics. Each of the pyramid's four ascending staircases has 91 steps, the number of days between equinoxes, for a total of 365, or the days in the solar calendar.
Praise the sun
A more recent discovery has shone even more light on El Castillo's cosmic connection. The summer solstice is the longest day of the year and, for the Mayans who built Chichen Itza, the start of the harvest season, according to The Yucatan Times. In 1997, the site's most famous structure was found to have a connection with the solstice just as it does with the equinox.
Just after dawn on that day, the pyramid's North and East faces sit perfectly across from the sun, fully illuminating those two sides while the other two sit in complete darkness. It took 10 years after the discovery of the phenomenon for Mexico's National Institute of Anthropology and History to officially recognize it. Many Mayan cities and buildings display their architects' knowledge of solar cycles, lending credence to the idea that El Castillo's construction was informed by the sun.