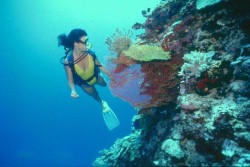 1/6/2011
If the endless sunshine and beautiful scenery weren't enough to sway travelers into visiting the Caribbean, a new reason may pop up as soon as this weekend. A United States Navy Ship has been placed into the blue sea water to create a new reef, according to The Associated Press.
The USS Kittiwake, which was a submarine that was put to use for more than four decades, now makes its home at the bottom of Seven Mile Beach in the Grand Caymans. Although it is a rusty structure, officials hope it will attract tropical fish, sponges, crustaceans and other marine life, allowing them to build a new home on the ship, the AP reports. The creation of the new reef is reportedly to attract more tourists to the area.
Many people showed up to watch the sinking of the Kittiwake vessel, including more than 40 boats and parasailers who wanted to get a bird's-eye view of the event.
Local authorities are pleased with the new project. Cayman Islands Premier William McKeeva Bush told the news source that it "represents the single most significant occurrence in a decade for Cayman's dive industry."