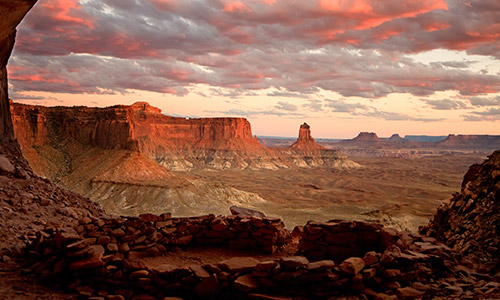 9/2/2021
Here are 10 of the best things to do in Canyonlands.
Canyonlands National Park spans across 337,598 acres of land and water and has been crowned Utah's largest national park. Take a breath as you disconnect from the modern world and try one of the many trails for hiking, biking or horseback riding, or perhaps just stop for some stargazing if you prefer a slower pace. 
This September welcomes Canyonlands National Park's 57th birthday since the park was first opened in 1964 and has been loved by locals and tourists for decades. To celebrate, we've rounded up the top ten things to see:
1. Mesa Arch
Situated on the eastern edge of the park in the Sky Mesa area, Mesa Arch is probably the most famous destination thanks to this stone arch framing a spectacular view of the canyons, all atop a 1,200-foot cliff edge. Getting to this viewpoint requires a 20–30-minute hike if you take the circular Mesa Arch loop. With good reason, this area is popular, especially at sunrise and sunset when keen photographers will gather to capture the view in its golden glory. 
2. Shorter trails in Island in The Sky
Island in the Sky is known for its stunning views, scenic drives, and short hikes. As one of the main areas of the national park and home to a lot of the attractions listed in this article, it can be tricky deciding where to visit. Shorter hikes may be a great option here such as Whale Rock and Aztec Butte.
3. Grand View Point Overlook
Perfect if you're only visiting for a short period of time, this lookout offers the best that Canyonlands has to offer with the mighty Colorado river to the east, Green River to the west, and an impressive 6,080-foot overlook to view it all from. Found at the southernmost point of the Island in the Sky scenic drive, this spot is great if you want to view the best of the park and don't fancy hiking or camping. 
4. Shafer Trail
Originally used by Native Americans to access the Mesa Arch, this iconic route descends 1,500 feet through multicoloured sandstone cliffs. Now this unpaved backcountry road is visited each year by hundreds and can be enjoyed as a thrilling 20-mile, off-road experience by car or by bike.  
5. The Needles
Found in the southeast corner of the park, these colourful spires are made from red and white zebra striped Cedar Mesa Sandstone, which is typical of the area. The landscape is vast, rugged,  not for the faint-hearted and best accessed by a four-wheel drive vehicle or an avid hiker. Newspaper Rock is a must see, complete with prehistoric paintings and figures carved into rock and has been designated a Utah State Historic Monument. 
6. Dead Horse Point State Park
Towering 2,000 ft. above the Colorado River, this area is a popular with mountain bikers and the Intrepid Trail System will not leave you disappointed with loads of challenging trails and some of the most scenic views the park has to offer. The legend behind the name of this area originates from the 1800s where horses were herded by cowboys to this area. Rumours has it that the ghosts of these horses can still be heard at night.
7. White Rim Trail
The name for this trail was coined due to the visible white rim of the sandstone along this 100-mile road.  It takes two to three days to complete this entire trail by bike or four-wheel drive. You'll need a permit, and a high clearance 4x4 vehicle, so some advance planning is recommended if you plan to visit this area of the national park. 
8. Horseshoe Canyon
Horseshoe Canyon sits separately from the rest of the park and was introduced in 1971 to protect some of its prehistoric rock paintings. A trip here is not to be missed, especially The Great Gallery, which is home to intriguing rock art that features life-size figures in red, white and brown and is believed to have been painted between 1,500 and 4,000 years ago. 
9. Upheaval Dome 
Named as one of the most puzzling geological features of the park, this three-mile, 3,000-foot crater has two theories attached to it; One is that it was created by a meteorite crash and the other is that it's the remnants of an ancient seabed. Another great attraction of the park, this vast crater is a great addition to your visit to Canyonlands. 
10. Cave Spring Trail
Another great destination for history lovers, this historic cowboy camp is over 1,000 years old and is accessible by a half-mile hike from the Cave Springs Parking area. There are ancient artifacts to marvel at left by the cowboys. The path ladder takes you to the top for more awe-inspiring panoramic views of the park.