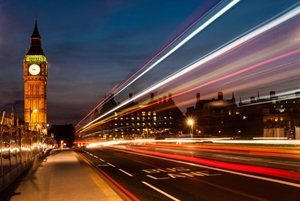 6/10/2014
High above the Palace of Westminster, the Elizabeth Tower stands constant vigil over the British Houses of Parliament. Atop the massive and famous clock tower sits an even more famous and equally massive landmark, the giant bell Big Ben. Practically synonymous with the British institution itself, Big Ben is a magnet for visitors both foreign and domestic every year. Here are some facts about the iconic monument that will help prepare you for a Europe travel experience centered around Big Ben.
Big Ben is very aptly named
The name given to the bell, Big Ben, is more than just an affectionate pet name. When you take into account the sheer size of the bell, it's hard to imagine it being named anything else. According to Big Ben Facts, the massive copper and tin bell clocks in - no pun intended - at a staggering 13.5 tons, the same as if a young elephant were perched in the clock's belfry. The stories of the bell's endearing moniker are varied, and nobody is certain just how the landmark came to be named. There are a few theories, however - Visit London reported that Sir Benjamin Hall, the first commissioner of public works, and Benjamin Caunt, a champion heavyweight boxer of the era, are both speculated to have lent their namesakes to the bell. Both men were quite beloved and, you guessed it, rather large.
A symbol of British order
While a favorite tourist attraction for travelers to the U.K., Big Ben is also an important symbol of the political clout of the British nation itself. Overlooking the Houses of Parliament, the Elizabeth Tower and its famous giant bell are literally connected at the hip to the comings and goings of British politics. But more than just an important symbol for Her Majesty's loyal subjects, the clock has much significance for people all over the world. Great Britain is the home of Greenwich Mean Time, the central locus from which all other time zones in the world extend. Big Ben's clock is kept alarmingly accurate - down to the second, according to British Scholar, and as such, serves as a symbol of leadership and reliability to people across the world, who look to Britain to guide their timekeeping efforts.