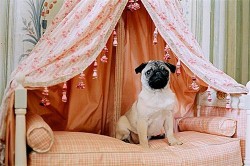 04/19/2012
Planning an upcoming vacation can be exciting, but some travelers may also feel anxious about leaving their furry friends at home. However, more hotels and resorts are opening up their doors to pets to offering special rooms and even perks for animals and their owners that stay.
London, England, has dozens of great accommodations to bring pets along on a trip, including the Kingsland Hotel. According to Official Pet Hotels, the guest rooms are comfortable and spacious for dogs, cats and owners to relax in between seeing all the sight of this massive city.
In Brazil, Rio de Janeiro has many great places for pets to run around and delight in the warm weather. When it comes to where to stay, travelers can choose the Hotel Villa Rica to bring man's best friend to on vacation.
Individuals who wish to stay in the U.S. have plenty of options when it comes to pet-friendly hotels. On the East Coast, Ocean Park Resort in Myrtle Beach, South Carolina, has easy access to beaches that allow dogs to visit, and requires only a small surcharge for guest who want to bring their animals along for their trip.