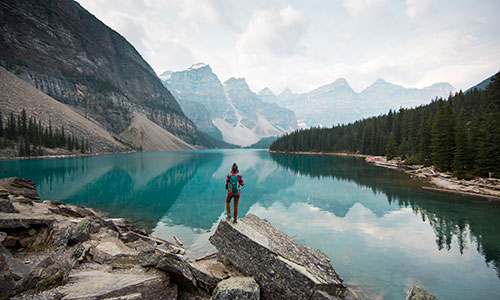 12/6/2021
It is often said that introverts are more drawn to the solitude and peace of a mountain vacation, while extroverts prefer the liveliness and sociable aspects of a beach. No matter where you sit on the personality scale, you have plenty of choices when it comes to mountains and beaches in the United States with over 73,000 named mountains and 95,000 miles of coastline. 
We've highlighted the most popular mountains and beaches in the U.S. to help inspire your next trip. This might not help you decide if you're a beach bum or a mountain trekker at heart, but it will certainly expand your travel must-see list.
1. Rocky Mountains vs. Clearwater Beach
The Rocky Mountains are renowned as one of the most breath-taking mountain ranges, and they stretch an incredible 3,000 miles across North America, from British Columbia to New Mexico. If you're a hiking or winter sport enthusiast, these mountains are home to 300 miles of hiking trails and the Aspen ski resort. These mountains are also great in spring/summer where you can see the incredibly colorful wildflower blooms in all their glory. 

Clearwater Beach is visited by millions each year and lives up to its name with crystal clear, shallow water making this beach ideal for tourists with children. Situated in Florida, the sunshine state makes this beach a hotspot year-round whether strolling along the palm-lined Beach Walk Promenade or visiting downtown for its vast array of eating, shopping and live entertainment venues. 
2. Great Smoky Mountains vs. Venice and Caspersen Beaches 
The Great Smoky Mountains are known for the fog that appears around the tops of the peaks and originates from the Cherokee word Shaconage, which means "place of the blue smoke." This ridge of mountains can be found on the border between North Carolina and Tennessee and is known for its cultural significance and abundant wildlife. It's no wonder this is the most-visited national park in the U.S.! 

Known for its mix of bohemian street performers and the world-famous muscle beach, Venice Beach, California, and its boardwalk are great to visit for those who find it difficult to sit still on a beach all day. Or if beautiful vistas and peace and quiet are what you seek then the nearby Caspersen beach, where the focus is more on nature and serenely soaking up the sun, is sure not to disappoint.
3. Alaska Range vs. Assateague Beach
Think of Alaska and you'll no doubt imagine snow topped peaks and a rugged, ice-laden landscape. The highest peak in North America, Denali can be found on the Alaska Mountain Range along with some of the most beautiful national parks that even seasoned nature lovers will find breath-taking. If hiking isn't for you, then take in a day cruise where you can cozy up with a hot chocolate and enjoy the Alaskan coastal mountains. 

Assateague Beach on the coast of Maryland and Virginia is packed full of things to do and see. Famous for its recreational activities, such as horseback riding on the beach, makes this perfect for animal lovers and or those on a romantic trip. The beach is also home to around 300 wild horses, which makes this beach unique and great to capture on film for any budding photographers. 
4. Sierra Nevada vs. La Jolla Cove
This mountain range spans more than 250 miles along the western coast of the U.S. from the central valley of California to the Great Basin. Dotted throughout the Sierra Nevada are several national parks, including Sequoia National Park, which has the world's largest trees that grow up to 7,000 feet tall.  The highest summit in the Sierra Nevada Mountains is Mount Whitney with an elevation of 14,505 feet, which will make even the Sequoias seem small in comparison! 

La Jolla Cove is also found in California and is great for animal lovers due to its abundance of sea lions and seals that inhabit the area. La Jolla translates to "the jewel," which lives up to its name as this beautiful beach is set within a picturesque cove and is one of the most photographed areas in California. The waters surrounding the cove are part of a 6,000-acre underwater park, so snorkelling is great here due to the ample wildlife.  
5. Cascade Range vs. Cannon Beach
It's said that the Cascade Range was named for its collection of cascading waterfalls and volcanic mountains that extend 700 miles from southern British Colombia to Northern California. A hiking highlight of this destination is the Snoqualmie Falls, which stretches over 268 feet high. The Snow Lake Lookout is the most visited points of the Cascade Range and rightly so, as this view looks like something out of a fairy-tale with its crystal-clear lake surrounded by snowy peaks; all worth the steep climb to reach this vantage point. 

A short drive from Portland you'll find Cannon Beach, which is rugged yet beautiful and easily one of the best beaches in the U.S. and was named in the top 100 most beautiful places in the world by National Geographic. This beach is also famous for Haystack Rock, which is a breeding ground for puffins.