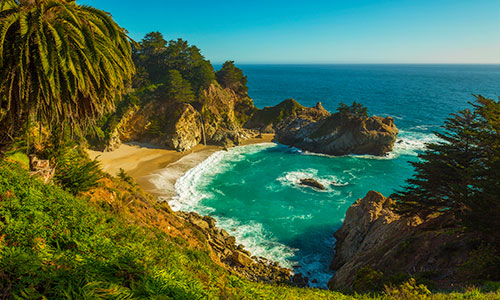 01/11/2022
After the holidays it can feel like winter starts to drag on forever. We're all so ready for some sunshine! Why wait? Take a trip to one of these beach towns, no passport needed!
Carmel-by-the-Sea, California
You'll likely never find a beach town with a better name than Carmel-by-the-Sea. This beach town is known for fairytale cottages that give the town a romantic storybook feel. A stroll along Carmel Meadows Trail will take you to breathtaking views of the ocean without being too strenuous.
San Juan, Puerto Rico
If you're looking to leave the continental U.S. for a winter beach destination, look no further than San Juan, Puerto Rico. Home to pleasant Caribbean winter temperatures and stunning, environmentally conscious 'Blue Flag' beaches, San Juan perfectly blends urban and coastal for a beautiful winter getaway.
Folly Beach, South Carolina
If leaving the mainland isn't your cup of tea (or cocoa) this winter, Folly Beach, South Carolina might be just the place for your relaxing beach vacation. Less than 15 miles from vibrant Charleston, Folly Beach boasts The Washout, one of the most popular year-round surfing destinations on the East Coast, providing endless viewing pleasure as you catch some rays on a mild, tranquil winter day.
Galveston, Texas
This island city on the Gulf Coast of Texas is the perfect winter escape. Spend an adventurous afternoon at the beachside Galveston Island Historic Pleasure Pier. After soaking up some sun head over to Bishop's Palace, a historic Victorian mansion steeped in history.
Hilo, Hawaii
With some of the warmest winter month temperatures in the United States, Hilo is a fantastic winter getaway. Downtown Hilo is known for its museums, art galleries, shops, and restaurants. For the nature enthusiast, Hilo has dramatic waterfalls and some of the most amazing blooming gardens to explore.