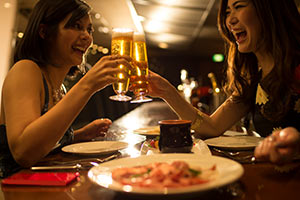 09/05/2019
Food tourism is quickly becoming a dominant trend in international travel, with a growing number of vacationers organizing their trips around unique and memorable dining experiences. According to the World Food Travel Association, culinary travelers currently account for around 47% of American vacationers, an estimate that is expected to rise over the next few years. If you're planning to embark on an overseas adventure in search of exotic flavors and authentic cuisine, it's important to spend time researching the best food travel destinations, along with useful tips for cutting costs and finding local specialties. To that end, we've put together this comprehensive food travel guide that can help you narrow down your options and ensure your culinary journey is a mouth-watering success.
Top 4 Food Travel Destinations
Since every foodie has their own unique palette and preferences, it can be difficult to create a universal list of the best food travel destinations. For example, vacationers who enjoy spicy meals may rank India and Thailand among their top travel regions, whereas those with an acute sweet tooth might prefer the local fare of France or Belgium. Generally speaking, the best food trip is one that aligns with your personal culinary interests. Luckily, almost every popular tourist destination offers a wide variety of local specialties that feature a cornucopia of flavors, textures and aromas.
1. Tuscany, Italy: Often called the "home of cooking," Italy is renowned for its fresh ingredients and family-style meals. Food lovers looking for intimate dining experiences will likely appreciate the rustic feel of Tuscany's eateries, which are filled with hard cheeses, stuffed pastas, seafood dishes and more. This food travel destination is also a must-visit for wine enthusiasts who enjoy classic reds like Chianti, Montalcino and Montepulciano.
2. Cairo, Egypt: Unlike more traditional food travel destinations, Cairo is known for its exceptional urban snack vendors and street foods, including falafel, shawarma, kushari and more. Considering many of the local dishes have not yet been popularized in the U.S., travelers can get a true taste of Middle Eastern specialties at an affordable price.
3. Tokyo, Japan: Although many foodies associate Japanese cuisine with sushi, the country actually has one of the most diverse menu selections you could ask for. What's more, Tokyo is home to more Michelin-starred restaurants than any other city in the world. Whether you're craving savory foods grilled to perfection or a sweet snack at a local street vendor, Tokyo has what you're looking for.
4. Bangkok, Thailand: Foodies focused on authentic street food often name Bangkok as a top vacation destination for culinary adventurers, as the sidewalks (and waterways) are packed with vendors from dawn until dusk. Many experienced travelers point to Bangkok's Tha Kha floating markets as a key location for scoring genuine Thai food, from khai jiao to pad thai.
How to Map Out Your Upcoming Food Trip
Believe it or not, there's a lot more to food travel than Michelin-starred restaurants and street vendors, as most cuisine hunters also sign up for culinary tours and cooking lessons, attend local food festivals and explore historic marketplaces. Considering culinary travelers spend close to 48% more per trip than typical vacationers, according to the WFTA, it's important to take advantage of free and low-cost activities in between your delicious meals. Here are three tips for maximizing your food travel adventures:
●       Researching your destination: While it may seem obvious, foodies should always research their travel destinations well in advance of their departure date. This can not only help narrow down the exact restaurants and local specialties you plan to enjoy, it can also ensure your meals are prepared with the freshest ingredients. Visiting a country in the off season may prevent you from experiencing authentic cuisine at its best, so be sure to plan accordingly.
●       Cooking around the world: Food travel can provide you with a valuable opportunity to experience another culture first-hand. Although you may be focused on sampling all of the exotic dishes, learning about regional cooking and preparation techniques can enrich your understanding of local customs. Signing up for culinary tours can also provide greater context for what makes regional foods so unique.
●       Exploring food traveler blogs: The rising popularity of food travel has, at least in part, been fueled by the social media and blogging activities of culinary-minded vacationers. Many of these experienced foodies focus on creating comprehensive restaurant and local cuisine guides that offer an inside look at food travel for specific destinations. This type of online content can help you plan out your upcoming culinary adventure and locate hole-in-the-wall eateries that might have been overlooked.
No matter what cuisines and flavors you prefer, there's no shortage of international culinary experiences for you to explore. But to get the most out of your food travels, it's crucial to thoroughly prepare for your trip, balance your expenses and weigh your options ahead of time—careful planning is always a key ingredient for a successful vacation.
Sources:
https://www.huffingtonpost.ca/parmjit-parmar/the-rise-of-culinary-tourism_b_7596704.html
https://www.worldfoodtravel.org/cpages/what-is-food-tourism
https://www.travelguard.com/customerservice/travel-tips
https://www.travelguard.com/travel-news/the-worlds-best-rooftop-restaurants-and-bars