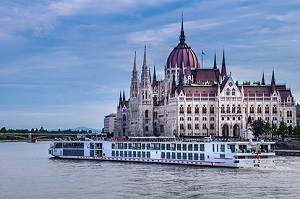 03/18/2019
Most people associate cruising with mammoth luxury vessels and gleaming open oceans. However, river cruises offer travelers the opportunity to explore rich freshwater environments, along with stunning natural and manmade attractions nestled among their banks. This is why an estimated 14 percent of Americans have embarked on river cruises, per AAA, and approximately 40 percent of U.S. travelers would consider booking one. Already planning a river cruise? Here are some tried-and-true strategies for getting the most out of your cruising experience.
Understand how river cruises differ from ocean cruises
As mentioned above, many people conflate river and oceanic cruising. However, several major differences separate the two. For one, river cruises center on ports of call and the excursion opportunities these locations offer, not the ship, The New York Times reported. In contrast to hulking ocean liners, river cruise ships tend to be smaller, feature fewer amenities and are designed for sailing rather than entertainment. This means you will devote most days to exploring the shores and re-embark near dusk to dine, sleep and move to your next location. As a consequence of their more compact frames, river cruise ships hold fewer passengers - typically 200 maximum. This intimate environment has advantages - for instance, making new friends is much easier than it would be on the average oceanic cruise.
Find the right onboard experience
Although river cruises emphasize shore excursions, they do offer moments for on-board relaxation, according to Condé Nast Traveler, which recommended skipping at least one shore adventure to sunbathe and take in the view. Your ship should support this kind of low-key leisure. It should also offer comfortable sleeping quarters. Finding a ship that fulfills this expectation will be relatively easy, as most feature well-equipped cabins that resemble those available on seafaring ships, Cruise Critic found. The average river cruise cabin comes with one queen-sized bed, a bathroom and a compact seating area. Television and internet access are also included. A good number of river cruise lines even offer vessels whose cabins feature French doors, French balconies or full balconies.
Map an enthralling itinerary
Location selection is essential in river cruising, since the destination will shape your on-shore experiences. Europe is perhaps the hottest river-cruise region, as many major rivers and tributaries cut through the continent, according to Condé Nast Traveler. The Rhine River, Western Europe's second-longest waterway, serves as the centerpiece for many European river cruises, guiding travelers through rich countryside dotted with ancient castles and eccentric hamlets ripe for exploration. The Danube River, which flows through 10 countries across Eastern and Western Europe, gives cruisers the opportunity to experience picturesque cities like Budapest, Hungary; Vienna, Austria; and Belgrade, Serbia. Asia is home to several popular river cruise regions - most notably, the Mekong River, the massive waterway that traverses six nations, including Laos and Vietnam, per Condé Nast Traveler. This inland territory offers unmatched shoreline views, ancient attractions and flavorful cuisine.
There are strong options available in North America if you want to remain closer to home. The mighty Mississippi River, the largest waterway on the continent, stretches from Minnesota to New Orleans, running through 32 U.S. states. Mississippi cruises often center on U.S. culture and history, per AAA, allowing cruisers to experience numerous regional gems, from author Mark Twain's old stomping grounds in Hannibal, Missouri, to the birthplace of American blues music in Memphis. Additionally, cruise lines typically use smaller craft and therefore provide hotel accommodations, which might be appealing if you'd rather not spend the night on the water.
Bring optimal river cruise wear
River cruises typically last one to three weeks, so come prepared with clothing for an array of situations, whether it's a light jacket for chilly nights or a breathable outfit for strenuous inland adventures. Most travelers end up breaking a sweat on river cruises during daylong port trips, which could include anything from hiking up ruins to exploring cities via bike, Condé Nast Traveler reported. You should also pack items that enhance your personal safety. For instance, luggage locks and room alarms can keep your belongings secure inside your cruise cabin. Wind-up smartphone chargers also carry significant safety benefits, giving you the power to charge your phone and call for assistance no matter your surroundings.
While you'll want to be prepared, you should avoid overpacking at all costs. The average river cruise ship features small rooms within the 200-square-foot range, which leaves little room for storage. Using a packing checklist is an effective strategy - as is bringing travel-size personal hygiene products and accessories.
With these best practices in hand, you can get the most out of your river cruising experience and make memories that will last.