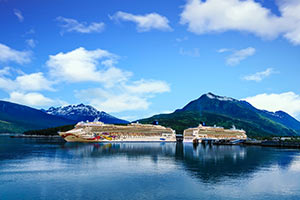 09/05/2019
Over the past few years, Alaska has become one of the most popular cruise regions for U.S. travelers, ranking among the top three destinations worldwide, per a 2017 poll from Cruise Lines International Association. In 2018, the number of cruise ships sailing through the Gulf of Alaska increased by around 20 percent. But with so many options available it can be challenging to narrow them down and map out the perfect Alaska cruise.
If you're planning a trip to The Last Frontier, the first thing you should consider is the type of cruise experience you're looking for. While many of the state's most popular landmarks can be viewed by boat, such as Glacier Bay and the Hubbard Glacier, there are some locales that can only be accessed by land. Vacationers interested in shore excursions will want to book their vacation during Alaska's warmest months to ensure their mainland adventures are not impacted by seasonal rains or overcast skies. Understanding how the weather fluctuates from month to month can guide your travel arrangements and help you find the best time of year for your Alaska cruise.
When to book your Alaska cruise
The Alaska cruise season lasts for about five months, from mid-May to mid-September, though most travelers book trips for June and July to capitalize on the exceptional weather and extended daylight hours. These months are considered peak travel season for the cruise industry, so vacationers should expect to pay more during this time frame. Unlike most regions of the U.S., Alaska's summer months experience noticeable swings in temperature and rainfall, which can have an impact on your travel plans. Average highs for the Inside Passage region can range from 55 to 65 degrees Fahrenheit during most of the cruise season, with early May and late September averaging around 10 degree colder, USA Today reported. To help you select the best month for your Alaska cruise, let's take a closer look at how the weather, temperature and pricing differ throughout the season:
May: The start of Alaska's cruise season benefits from below-average prices and smaller crowds, which may appeal to vacationers who want to avoid packed decks and ports of entry. May is considered the driest month of the travel season, with just a 25 percent chance of rain and an average temperature of 39 to 54 degrees, per Cruise Critic. Although it is a bit chillier, travelers can catch a glimpse of beautiful snow-capped mountains and spring blossoms in stark contrast.
June: While the prices are a bit higher compared to May, this month tends to be a sweet spot for  budget-minded travelers who want to enjoy Alaska's peak weather conditions, as the primary influx of vacationers doesn't start ramping up until the end of June. The temperature ranges from 47 to 62 degrees on average, with relatively little rainfall and the longest daylight hours of the summer season.
July: As you might expect, July is the most expensive month for booking an Alaska cruise and is considered the busiest time of the year. The average temperature stands around 51 to 65 degrees, making it the best month for land tours of Denali National Park and other landmarks. Seasonal rainfall is quite common in July, so it's important to bring along appropriate clothing on your shore excursions.
August: This month marks the end of Alaska's peak cruise season and typically features lower-than-average prices, though each cruise line is different. On average, the temperature ranges from 48 to 63 degrees. The chance of rain is more than 50 percent, so be sure to pack waterproof shoes and wool socks. Vacationers who prefer cruise tours and whale watching should consider booking their trip during this month, as traveling by land can get a bit muddy.
September: With the Alaska cruise season wrapping up, September boasts a quiet, relaxing atmosphere and ticket prices that fall well below average. Travelers should expect colder temperatures, between 41 and 55 degrees, and a high chance of rainfall, which may complicate land tours and shore excursions. That said, booking your Alaska cruise in September significantly increases your chances of seeing the Northern Lights.
As cruises to Alaska continue to rise in popularity, it will become increasingly important to book your trip in advance. Spend some time looking over your Alaska vacation plans to see which summer months align with your travel goals and your budget.