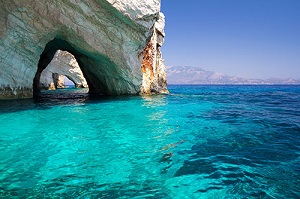 03/01/2019
The Mediterranean regularly ranks among the most popular cruise regions globally. In fact, this hopping oceanic zone hosts approximately 13 percent of all seagoers, making it the second-largest cruise market worldwide behind the Caribbean, according to researchers from the Association of Mediterranean Cruise Ports. With spring just around the corner, travelers everywhere will soon begin booking their cruise vacations to the Eastern and Western Mediterranean. Planning on going yourself?
Make sure to pinpoint an experience that includes these five essential Mediterranean cruise characteristics:
1. Robust onboard amenities
Modern cruise ships are much more than seaworthy people movers. These vessels are attractions in themselves, giving travelers access to unmatched onboard experiences that make the time in between ports just as exciting as the shore excursions. Good food, pleasing cabin space and quality service are pretty much rudimentary nowadays considering the out-of-this-world amenities found on most modern cruise ships, like thermal spa suites with attached "snow grottos" - post-sauna cooling areas featuring artificial precipitation, Condé Nast Traveler reported. Keep these offerings in mind as you search for an ideal cruise line and be sure to select one that provides exquisite on-sea amenities.
2. Excellent health and fitness services
While most Mediterranean cruise ships are designed specifically for relaxation, being on an ocean-bound vessel with thousands of people can become stressful. Additionally, colds and other minor ailments tend to circulate among passengers from time to time as a consequence of close-quarters cruise living, according to the Centers for Disease Control and Prevention. This reality makes onboard health and fitness services critical to cruise enjoyment. Modern cruise ships feature responsive medical teams that have access to fully stocked pharmacies and wards, Cruise Critic reported. These watercraft typically have large gymnasiums ideal for cruisers who wish to maintain their exercise routines while at sea or participate in some stress-busting competition. You would be wise to focus on finding Mediterranean cruises that offer these amenities, no matter how utilitarian they may seem.
3. Strong itineraries
The Mediterranean boasts numerous must-see locations. From eastern cultural capitals such as Venice and Athens to western hotspots like Monaco and Monte Carlo, the number of porting possibilities is truly overwhelming. There are, of course, some long-time favorites, including Barcelona, which welcomes more than 2.5 million cruisers annually, per the AMCP, and the Italian port Civitavecchia, which acts as the oceanic entrance to Rome. Here, travelers can explore rich historical locations such as Vatican City, the hub of the Catholic Church and home to monumental architectural feats, including St. Peter's Basilica and the Sistine Chapel. The Italian capital is also known for its ancient ruins - the centuries-old remnants of the great Roman Empire. These sites include the Circus Maximus, the Pantheon and the Colosseum, which was one of the most visited tourist attractions worldwide in 2018, TripAdvisor found.
Ideally, your cruise vacation itinerary should include one or more of the Mediterranean ports mentioned above, as these coastal territories offer spectacular experiences.
4. Quality shore excursions
All reputable Mediterranean cruises feature inland adventures during which travelers explore ports through various activities. As you can imagine, there are many options, but some specific shore excursions stand out. For instance, travelers whose itineraries include Santorini often set aside time for diving, as the Greek island boasts glassy, translucent tides and eye-catching subaquatic features - most notably, the Adiavodos reef, according to Cruise Critic. Hands-on culinary experiences are ideal for cruisers who prefer dry-land activities and Turkey offers some of the best. Travelers stopping off in Instanbul, an increasingly common occurrence as of late following years of tourism declines, can connect with local cooks and learn how to make Turkish delicacies, including baklava.
As you put together your Mediterranean cruise vacation, take some time to review possible shore excursions and book experiences that meet your needs.
5. Reasonable rates
Price is key for most Mediterranean cruisers. Unfortunately, it is extremely easy to overspend nowadays due to the sheer volume of add-on amenities and services cruise lines offer, The Washington Post reported. Even so, savvy travelers can normally find reasonable rates and experience the majesty of the Mediterranean without going broke. Of course, you will want to copy this modus operandi and seek out cruise packages that offer quality at a reasonable price. You might also try supplementing with some proven cruise cost-cutting strategies that you can deploy at home and onboard.