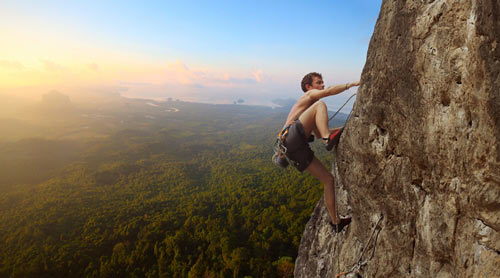 5/26/2017
You may be a frequent flyer who's traveled to countries all over the world for pleasure or business travel. Sure, many of the most popular hotels are crossed off your list and you've mastered getting through the airport quickly without hassle. You may be an experienced traveler, but have you ever stepped outside of your comfort zone and tried something you've never dared to before?
Whether you're up for a heart-stopping activity or you want to enjoy your trip in a new hotel that tests your courage, there's something out there for everyone. Try one of these exciting vacation ideas to ensure you're taking your next vacation up a notch.
1. Cave trampolines
Do you love the feeling of being propelled into the air by a trampoline? You may have been to local trampoline parks or even have one in your backyard at home. However, no trampoline experience can match the one you'll get at the Llechwedd Slate Caverns in northern Wales. The 176-year-old stone quarrying site near Blaenau Ffestiniog is now host to a web of trampolines that guests can get to by taking an old mining train up one of the steepest railways that exists in Britain.
If you're afraid of heights, this activity may not be for you- the highest trampoline is elevated 180 feet above ground. According to CNN, the massive cavern is twice the size of St. Paul's Cathedral and consists of three levels of trampolines. Travelers choose to jump on one of the three depending on how brave they're feeling. While there are nets there to catch you if you were to slip or jump a little too high, these nets are all that stands between you and the bottom of the cavern, so be prepared for a few heart-stopping moments. To make the experience even more exciting, the cavern is lit up by a rainbow of neon LED lights, which may make you feel like you're bouncing in outer space.
2. Night safari
Perhaps one of the most exciting forms of adventure travel is embarking on a night safari tour. These adventures take trips to the zoo to a whole new level. Animal enthusiasts will love Singapore's Night Safari tour that invites guests to skip a late night at the club for a chance to get up close and personal to some of the rarest species in the world. Not only are many of them endangered, but a lot of them only come out at night.
Opened in 1994, Night Safari was the world's first park created for nocturnal animals, according to its website. Once the sun sets, travelers can jump on one of the trams that brings them close to more than 2,500 resident animals and over 130 species. Which mammals can you expect to run into on your nighttime journey? You will find many species that are indigenous to the region, such as the endangered Malayan tiger, the Asian elephant and the Malayan tapir. You may see a few deer prance by your vehicle as they roam freely through the lush rainforest, while other animals like leopards are kept from your path with barriers.
3. Skylodge Adventure Suites
Are you a fan of mountain climbing? If so, you should consider staying at the Skylodge Adventure Suites in Peru. These capsule suites are designed for climbers who aren't afraid to tackle a 400-foot climb in the Sacred Valley in Cusco, which must be done in order to reach your room. Conde Nast Traveler magazine explained that each suite is perched along the cliffside of the mountain and is made of glass so it appears that you're floating as you drift off to sleep. The only way to get back down is by climbing or zip lining.
While each capsule is relatively small, they manage to include four beds, a dining area and a bathroom with a dry sink. Although the exterior is made from a clear form of polycarbonate, like the kind used to build space shuttles, there are curtains for travelers who prefer a bit more privacy. The design is also eco-friendly, running entirely on solar power. If you think you can brave a night in the new cliffside suite, consider purchasing the Skylodge package, which includes breakfast and dinner with rates starting at $1,000 per night.