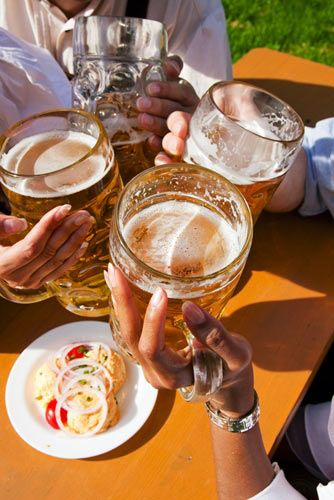 9/15/2016
Germany is known for its one-of-a-kind craft beers and breweries. Events like Oktoberfest attract millions of travelers from around the world each year who are looking for a taste of the local brew and the country's rich culture.
The megabreweries in Munich may be the most popular destinations for beer enthusiasts who are new to the German beer scene, but there are additional breweries that all explorers should visit. Don't miss out on any hidden gems or special beers if you're planning on taking a trip to the ale-lover's haven. Use these travel tips to guide you along your journey.
Is popular better?
Munich is famously known as the hub of beer and brewing in Germany. Over 6.4 million party-goers flock to the city to take on the full 48 hours of beer steins, sausage and traditional lederhosens during Oktoberfest. According to CNN, there are six megabreweries, such as Hofbrauhaus, that have become famous from the event, which sell cheap blonde brews and weissbier. However, the beer scene in Germany has much more to offer, featuring over 50 types that can only be found here.
The local drinking crowd has become more sophisticated over the past few years and breweries have responded to this by crafting new beers and digging up old brewing styles. Industrial beers are becoming less popular and unfiltered rye brews, copper ales and new top-fermented IPAs are coming back to life. Many would agree that these are the beers worth journeying to Germany for.
Where can you find these local brews? Most travel guides won't lead you to the breweries that natives would recommend. If you're willing to take your adventure outside of the usual tourist hotspots, visit some of these hidden gems that offer visitors a true taste of the country's history, culture and fine craft brews.
Where should you go?
You'll want to explore the historic city of Munich on your trip, regardless of whether you plan to make beer tasting a part of your journey. Conde Nast Traveler noted that beer lovers in Munich should make a point to check out Giesinger-Braeu and Redhot. These unique breweries offer laid-back environments that feature not only some of the finest craft brews, but mouthwatering meals like ribs and burgers. You'll also find that many of these pubs brew your beers right in front of you.
Many frequent travelers would also recommend exploring outside of Munich in cities like medieval Bamberg, where traditional breweries produce thousands of ales in addition to the popular blonde beers. Mahr's Brau and the Klosterbräu breweries are known for their dedication for selling brews that date back to the 1500s.
Other cities like Cologne-Düsseldorf and Bremen are ideal for beer fanatics, where they'll find city centers featuring over 260 pubs within a 1-mile radius. Hamburg is also home to over 400 breweries and the Craft Brew Festival, which is held multiple times each year.
What local brews should you try?
Germany Travel Guide suggested trying the Warsteiner Premium Verum, which is brewed in the North-Rhine Westphalia region. Its firm but slightly bitter taste makes it easy to drink any time of the day and its unique flavor separates it from other pilsners.
Fruh Kolsch can be found at nearly any pub in Cologne-Düsseldorf where it originates. With a light, nutty taste, this ale is a popular choice among Cologne natives and experienced travelers. The beer to drink in Bamberg is the amber-colored smoked brew, Rauchbier. The brewing process involves drying malt over a fire to get the light smoky flavor that makes Bamberg's beers, like Aecht Schlenkerla and Spezial, such delicacies. In fact, the ale is only sold within a 9-mile radius of the city, so be sure to get a taste while you're there.