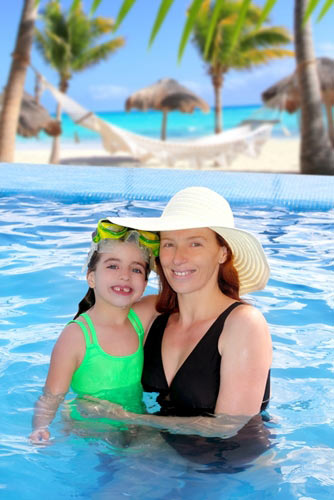 9/8/2016
Hawaii is the ideal destination for many travelers, with the bustling city of Honolulu to the south of the island and pristine beaches located in every direction. This is why it's been such a popular choice for family travel for decades. However, if you think that embarking on a journey to the Aloha State with children will make you miss out on the opportunity to experience a luxurious beach resort, you'll soon find that for many accommodations, the two go hand in hand.
Whether you're looking for a seaside resort or one in the heart of the city, the island offers a wide array of options. Before you book a hotel for your trip, check out these accommodations that make catering to guests of all ages a priority.
1. Aulani Disney Resort and Spa
A lot of the resorts found throughout Hawaii provide their guests with breathtaking ocean views and luxurious amenities. The Aulani Disney Resort in Oahu was designed with these features as well as an emphasis on creating the perfect balance between amenities for fun-loving children and relaxing extras for adult travelers. For example, the resort is home to a high-end spa and waterfront bars in addition to Disney movie nights and fire pit storytelling experiences for the kids.
According to the hotel's website, one of the most enticing aspects of the resort is its water park where children will find exciting attractions like a lazy river and interactive games. The Menehune Bridge provides a splash zone where kids are greeted by replicas of the Menehune, the mythical Hawaiian people who were said to live deep in the forests and valleys and cause mischief.
The Klo Olina Golf Club, located next to the resort, and a romantic open-air restaurant on the beach are perfect for couples who want to spend some time unwinding while the children enjoy the complementary kid's club at Aunty's Beach House. Kids will find a cinema, a craft room and even a spa for teens.
2. The Grand Hyatt Kauai Resort
TripAdvisor rated the Grand Hyatt in Kauai as the best family-friendly hotel on the island. Previous visitors have raved about the outdoor activities available for families as a part of the resort's program. Guests can go hiking, mountain biking or scuba diving during the day and dance the evening away at a traditional family luau. For travelers who want to go night swimming before bed, there are also four pools to choose from, open 24 hours a day, according to Family Vacation Critic.
Like most other resorts designed with kids in mind, the Grand Hyatt offers Camp Hyatt for children while their parents reconnect at the world-class spa or kayak in the beautiful saltwater lagoon. The camp focuses on educating guests on the Hawaiian culture and teaching them crafts, like how to make a lei. The resort also makes traveling with a baby more convenient, with features like cribs and free babysitting services provided upon request.
3. Grand Wailea, A Waldorf Astoria Resort
Located in Maui, the Grand Wailea Resort is known as the place to go when vacationing with energetic young kids. What makes it so perfect for children? Conde Nast Traveler noted that one of the resort's biggest selling points is its pool system that ensures guests are never bored. It comes with more than just water slides and a lazy river, but other unique features like its rope swing and a fake volcano in the center of the pool with a water elevator that brings swimmers to the top.
While the adults go to the bar for a drink, kids as young as 5 years old will have a blast at Camp Grande, a massive facility with an arcade, a video game room and a movie theater. The beach located next to the resort has white sandy shores perfect for sunbathing, while more adventurous family members take on waves that are perfect for snorkeling or learning how to surf.
Even the menus and rooms were designed for families, with eateries offering popular kid's meals and sleeping quarters that connect to one another so that parents can keep a close eye on their younger children.