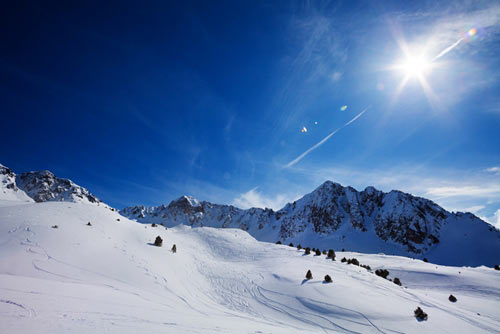 9/29/2016
Whether you're an avid skier or simply enjoy testing your skills on the powdery slopes every once in a while, the time has come to book your winter vacation to the snow-capped mountains of Europe. The Alps are calling your name as conditions become increasingly perfect for a ski trip, but before you book your hotel and invest in a weekend ski pass, it's important to consider all of your options.
You may be used to embarking on a journey to the same resort, but with hundreds of choices at your disposal, it could be worth it to do a bit of exploring. As you narrow down your options, highlight these three ski resorts that have been ranked among the best places to settle down for a weekend on the slopes.
1. Tignes, France
Located in the middle of the Espace Killy ski bowl in the French Alps, skiers of all experience levels have flocked to the breathtaking Tignes resort for decades. It's located next to the Val d'Isere resort, which is also raved about by snow enthusiasts.
Conde Nast Traveler magazine explained that Tignes is comprised of five quaint villages that have been designed to reflect the sporty vibe established by today's ski culture. If you enjoy glacier skiing, Val Claret, one of Tignes' villages, is elevated almost 6,890 feet high on the slopes. For a truly luxurious experience, Les Suites de Montana features exquisite views, elegant sleeping quarters and easy access to your favorite trails.
2. Pas de la Casa, Andorra
Although it's not as popular as bordering France and Spain, Andorra is a haven for travelers who are passionate about skiing in only the most beautiful mountain settings Europe has to offer. In fact, the tiny country is best known for its high number of ski resorts. One of the most popular is Pas de la Casa, which offers travelers more than just a chance to ski in the Pyrenees, but 31 lifts and more than 62 miles of trails.
Pas de la Casa has come a long way since its opening in 1957 - it's the oldest ski resort in Andorra - with plenty to do when you're not hitting the trails. This resort is ideal for a trip with your friends, as the nightlife is often called "Ibiza on ice," due to its wide variety of clubs and bars, explained International Business Times. Of all the hotels located on Pas de la Casa, Hotel Les Truites is ranked No. 1 on TripAdvisor, as recent guests rave about the attached Portuguese restaurant and the warm and inviting atmosphere offered by the family-run resort.
3. St. Anton, Austria
For a one-of-a-kind ski vacation, St. Anton offers nearly 200 miles of trails and 440 miles of back- and side-country mountain terrain for a large selection of trails catering to all experience levels. What makes St. Anton so unique is the number of villages that surround it, offering a long list of activities to enjoy after you've experienced the chutes of Valluga Peak.
For example, the resort is located near Lech - a high-end village with activities to enjoy when you want to take a break from the slopes, such as cozy restaurants that are ideal for grabbing a bite to eat and clubs for an exciting nightlife scene. There are also plenty of interesting hotels to stay at, such as the das Mooser Hotel, where there are ski-in-ski-out access, spas and four types of saunas to introduce a little heat to your winter vacation.