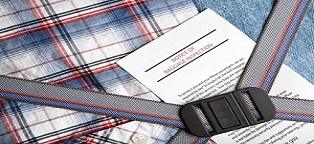 06/01/2017
Air travelers, particularly those who are on the go for business or organizational purposes, are often in a hurry. As such, any way in which security clearances required by customs agencies around the world can be expedited is worth exploring. The U.S. Homeland Security agencies that handle airport security - the Transportation Security Administration and the Customs and Border Protection agency - offer programs designed to speed up departures from and arrivals into the U.S. These are TSA Pre-Check and CBP Global Entry:
TSA Pre-Check benefits and requirements
Available to U.S. citizens, nationals and lawful permanent residents, TSA Pre-Check allows its members to go through the agency's security screening procedures at a much faster pace. This is in large part because of the items you don't have to remove when passing through the metal detector and X-ray scanner - laptops, liquids, belts, shoes and certain lighter-fabric jackets. Business travelers, who may be carrying all they need in a carry-on overnight bag for a short stay, will find this especially advantageous.
Across the U.S., more than 180 airports partner with TSA to allow Pre-Check, and most major U.S.-based airlines participate in the program, including Delta, American, Southwest, JetBlue and Virgin America. To be enrolled, you must apply online for $85 and subsequently pass a background check and fingerprinting at one of the agency's enrollment facilities. According to TSA, 97 percent of Pre-Check members spent 5 minutes or less waiting to pass through security.
Global Entry benefits and requirements
This expedited entry program has greater availability than Pre-Check does on its own, but successful enrollment in Global Entry - or NEXUS, for Canadian citizens and residents - affords most members Pre-Check benefits. Legal permanent residents of Canada can't use Pre-Check despite eligibility for Global Entry. U.S. citizens and lawful permanent residents, Mexican nationals, and citizens of the UK, Singapore, Colombia, Germany, Panama, South Korea and Switzerland can all apply for CBP Global Entry.
This initiative allows members to quickly pass through automatic kiosks to scan their passports or residency cards when entering the U.S., and also provides access to equivalent programs in various other countries. Much like Pre-Check, you must first apply online, pay $100 for registration and - if your web application passes - submit to an in-person interview at a CBP Global Entry Enrollment Center.


Contact your travel insurance provider for further assistance.

The information contained here is provided by Brafton. AIG Travel assumes no responsibility for the use, accuracy, or interpretation of the information contained herein.