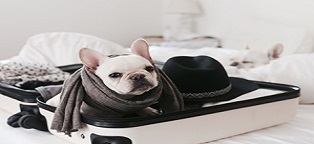 05/31/2017
Packing light is essential, but who wants to feel frumpy while soaking in the sights? Check out the list below for packing smart!
Aim for versatile pieces
Everyone faces the dreaded packing decision: To bring that sweater or leave it home? With the added expense of checking a bag - and the stress of worrying that it will get lost or damaged in transit - more travelers are bringing carry ons only when they travel. So how do you decide what makes the cut? According to Refinery29, the key is to ignore the old advice of packing for all of the different occasions you'll have while traveling. Instead, aim for pieces that are multi-purpose. The publication had three essential questions to determine if a piece of clothing makes the cut: Is it versatile? Can it work in a number of different environments? And does it make you feel like you? If they're all a yes, the sweater or shoes go in the bag.
Shop secondhand when traveling
Need a scarf to battle the sun or rain boots to fight a sudden downpour? While it may be tempting to pop into a chain store you know, you can shop smarter by seeking out secondhand stores. As The Evening Telegraph noted, it can be fun to scour the racks for the perfect jumper or rain jacket. You're also more likely to mingle with locals in these shops. In addition to grabbing a great deal, you'll be doing the earth a favor! One Green Planet observed that thrift shopping keeps perfectly good clothing out of landfills. In addition, it keeps you from overstuffing your suitcase - and your closet, once you're home.
Ditch the plastic water bottle
We admit it: In a pinch, plastic water bottles are a lifesaver. However, too many bottled end up discarded in landfills. According to Ban the Bottle, 38 billion water bottles ended up in the garbage last year - just in the U.S.! Instead, pack a hard plastic bottle, like Nalgene, or a metal one, like Kleen Kanteen, to keep you hydrated. Need to save space in your travel pack or in your carry on? Swap out these space hogs for collapsible water sacks, like those made by Camelbak. They travel well and help the planet! Whether you're traveling in Europe, Asia or across the States, you'll accrue many new experiences. But you can keep your suitcase light - and keep your wallet and the earth happy!


Contact your travel insurance provider for further assistance.

The information contained here is provided by Brafton. AIG Travel assumes no responsibility for the use, accuracy, or interpretation of the information contained herein.