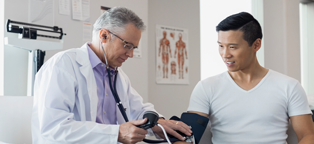 03/03/2017
HOUSTON (March 3, 2017) – Compared to recent years, the 2016-2017 flu season, now at its peak, is shaping up to be relatively severe. In the U.S., the flu hospitalization rate was 29.4 per 100,000 people the week of Feb. 10, compared to a rate of 5.1 per 100,000 people during a comparable week in 2016,1 and pneumonia and mortality rates have now passed epidemic thresholds.2 For those taking advantage of off-season deals and Spring Break vacations to travel in March, this trend may be especially alarming – after all, experts say crowded spaces, new germs, recirculated air, and jet lag can make travelers more vulnerable to the flu.
While travelers may choose to recommit to timeless prevention techniques, like getting plenty of rest and drinking lots of fluids, this flu season, they may also want to brush up on less intuitive factors that may affect their ability to stay well on the road. With this in mind, AIG Travel Global Medical Director Dr. William Spangler has provided a list of lesser-known flu season "do's" and "don'ts" to clarify common misconceptions about this serious illness, and give travelers the best chance of enjoying their trips in good health.
This flu season, AIG Travel and Dr. Spangler recommend the following to travelers:
DO get a flu vaccine, but: According to the Centers for Disease Control, getting a seasonal flu vaccine is the single best thing you can do to prevent yourself and others (many of whom, such as children under six months, may not be able to get the vaccine themselves) from getting sick. If you're among the 60 percent of Americans who haven't gotten their flu shot this season, talk to your doctor about one today.3
DON'T stop there: Each flu vaccine protects against only those viruses that experts believe will be most common in a given season. The vaccine does not protect travelers from less prevalent strains of the virus (which international travelers may be particularly likely to encounter), nor is it 100 percent effective at preventing the strains it does target. Vaccinated travelers should still take preventive measures, such as regular hand washing, to keep from getting sick.
DO be extra vigilant, but: Many behaviors that protect people from catching the flu may seem extreme to others or even to travelers themselves. That said, consider the harm in looking a little silly compared to that of contracting a disease that could potentially ruin your trip. Be "that" person, and: wipe down tray tables and arm rests with disinfecting wipes, don't shake the hands of those with visible symptoms, such as cough and runny nose, and avoid large crowds in areas with known outbreaks.
DON'T let your guard down post-flu season: While in the northern hemisphere, flu activity drops off significantly after May as the summer approaches, this is also the same time popular destinations in the southern hemisphere (e.g., Australia, Brazil, South Africa) are headed into winter. Flu season at these destinations may be just beginning, and look very different than in the U.S. Travelers are advised to practice healthy behaviors year-round to minimize their risk.
DO what works for you, but: While some behaviors, such as frequent hand washing, eating healthy foods, and avoiding face touching, are tried and true flu deterrents, there are others – like taking Vitamin D supplements – that medical professionals aren't so sure about. While these fixes shouldn't be relied upon exclusively, travelers may (with the blessing of their doctor) try whatever they'd like to fight the flu. Sometimes, feeling healthy is half the battle!

DON'T fly if you're sick: That said, it's critical travelers remain courteous to others, and know when to call it quits. Sick travelers, and especially those with a fever, should postpone or cancel their trips – not only to focus on their own health, but also to protect others from catching their illness. Some larger airlines may even assign staff members to keep any eye out for sick travelers, and prevent them from boarding the flight where they may infect healthy passengers.
This flu season, travelers may also consider purchasing travel insurance as a way to protect their purchase if they or a family member falls ill before a trip, and to help ensure they have the resources and support they need in the event this happens during a trip. Many insurers offer 24/7 assistance services which can connect travelers to medical experts who can assess their case, as well as evacuation coverage to transport travelers home or to a hospital of their choice in the event of an emergency. 
For more expert travel advice and information about Travel Guard products and services, please visit www.aig.com/travel or www.travelguard.com.
1 http://www.beckershospitalreview.com/quality/how-this-flu-season-stacks-up-to-past-seasons-5-key-metrics.html
2 https://www.fool.com/investing/2017/02/11/flu-death-rates-just-hit-the-epidemic-threshold-bu.aspx
3 http://www.webmd.com/cold-and-flu/news/20161212/just-40-percent-of-americans-vaccinated-for-flu-this-season
# # #
About AIG Travel and Travel Guard
AIG Travel, Inc., a member of American International Group, Inc., is a worldwide leader in travel insurance solutions and assistance. Travel Guard® is the marketing name for its portfolio of travel insurance solutions and travel-related services, including assistance and security services, marketed to both leisure and business travelers around the globe. Services are provided through a network of wholly owned service centers located in Asia, Europe and the Americas. For additional information, please visit our websites at www.aig.com/travel and www.travelguard.com.
About AIG
American International Group, Inc. (AIG) is a leading global insurance organization serving customers in more than 100 countries and jurisdictions. AIG companies serve commercial, institutional, and individual customers through one of the most extensive worldwide property-casualty networks of any insurer. In addition, AIG companies are leading providers of life insurance and retirement services in the United States. AIG common stock is listed on the New York Stock Exchange and the Tokyo Stock Exchange.
Additional information about AIG can be found at www.aig.com | YouTube:www.youtube.com/aig | Twitter: @AIGinsurance | LinkedIn:http://www.linkedin.com/company/aig
AIG is the marketing name for the worldwide property-casualty, life and retirement, and general insurance operations of American International Group, Inc. For additional information, please visit our website atwww.aig.com. All products and services are written or provided by subsidiaries or affiliates of American International Group, Inc. Products or services may not be available in all countries, and coverage is subject to actual policy language. Non-insurance products and services may be provided by independent third parties. Certain property-casualty coverages may be provided by a surplus lines insurer. Surplus lines insurers do not generally participate in state guaranty funds, and insureds are therefore not protected by such funds.
Contact: 
Rhonda Sloan
713-284-8232
rhonda.sloan@aig.com