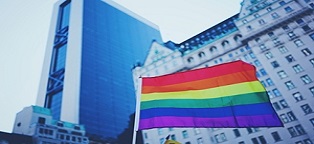 06/21/2017
June is Pride Month and with so many celebrations and events taking place around the world, LGBT travelers and allies may have their sights set on visiting new and exciting locations. From navigating airport security when your documented gender doesn't match how you present, to wondering if you'll be accepted with your partner when you're together in a new city, LGBT travelers should know their rights and be prepared before they go on their next adventure. There may be some extra travel challenges, but that doesn't mean you should be afraid to plan that dream vacation! Just follow these tips to help you plan for a safe and exciting trip.
Civil rights for LGBT people are expanding significantly around the world, but some areas are slower to progress than others. As such, you should try to stick to locations that have more accepting policies and laws to protect you if you're looking for a more stress-free vacation. Spain is a popular destination for this reason. Out Traveler reported that Spain legalized same-sex marriage more than 10 years ago, and sees more LGBT tourist revenue than France or the U.K., two other European countries with prominent LGBT scenes. The Netherlands, Canada, Aruba, Brazil, Thailand and New Zealand are also popular destinations for their progressive views and thriving gay communities. Millions attended the worlds largest pride parade celebration in Brazil.
Some countries have strict laws that prohibit relationships between same sex couples, such as in Nigeria, Iran and Saudi Arabia. Russia, Morocco and 15 other countries have laws that prohibit propaganda for LGBT people. In some cases, being openly out and visible can be seen as a violation for "promoting" an LGBT identity.
In some countries, LGBT relationships and communities are heavily frowned upon, but tourists are safe from laws that will prosecute them for their sexual orientation. Despite this, the attitude of locals, may make some people uncomfortable in those settings. This is prevalent across many Caribbean islands. While you shouldn't necessarily consider a destination off-limits, you should know when extreme discretion is warranted and take extra precautions. It's important to adhere to local laws, even when you don't agree with them.
1. Learn the local laws and culture
All travelers should familiarize themselves with the local laws and customs of a new location before they arrive and understand their rights and the resources available to them in the unlikely event of a conflict. Even in countries where LGBT people and relationships are legal, or same-sex marriages are allowed, it's important to remember that not every person you meet will share that same view.  Keep in mind that even if a location has more accepting laws and attitudes toward the LGBT community, public displays of affection between both homosexual and heterosexual couples may be culturally frowned upon.

The U.S. Department of State suggests tourists research the countries they are looking to visit for more information on their safety. The Special Laws & Circumstances section of a country's profile on their site will provide specific information on the safety and risks presented to LGBT travelers. When traveling internationally, know the location and contact number for our country's embassy.

2. Navigate airport security

Airports have strict policies about identification and documentation for passengers. Trans and nonbinary travelers, or even cismen who dress in a more stereotypically feminine way and ciswomen who are more masculinely styled, may face extra scrutiny when they fly. Some trans travelers may feel uncomfortable with the security screening process and may choose to present as the gender on their identification, even if it's incorrect, to decrease the chances of harassment by airport staff over their identity. Alternatively, you can update your gender on your passport with a letter from your physician. Hormone Replacement Therapy (HRT) and reassignment surgeries are not required to change your listed gender on a passport - your doctor simply needs to state that you have transitioned or are in the process of transitioning.
You can also update your name on your passport if you have a certified name change document, or your U.S. state I.D. lists your correct name. The process for getting your legal name change will vary by U.S. state. The decision on what identification you use and how you present is completely up to you. Just be sure to book your tickets using the name on the I.D. that you choose to present at the airport.

Full-body X-ray scanners can present a problem as well. These machines are typically set to decipher between binary genders, and binders and prosthetics could also raise a flag to airport security staff. You can opt for a manual screening instead, and as these are also assigned based on gender, you will be assigned an officer based on the gender stated on your I.D. Some people are uncomfortable with the level of touching involved in this process as well, as it can include full-body pat downs. You are allowed to request a pat down in a private room if it makes you feel more comfortable.
The National Center for Transgender Equality (NCTE) emphasized that you are never required to lift or take off clothing or remove prosthetics, though you may need to explain what they are if confronted by security staff. If an airport security agent tries to get you to remove clothing or a prosthetic, ask to speak to their supervisor. The NCTE noted that it's important to try and stay calm and respectful during these interactions, though they may be quite uncomfortable, to prevent any escalation from security staff. If you have concerns about flying, be sure to talk to your doctor or counselor about coping and management before your trip.
In the U.S., you can also contact the Travel Security Agency (TSA) Cares helpline in advance of your travel with any questions regarding the screening process or to request a passenger support specialist who can assist you when you go through airport security. U.S. nationals and residents might think about buying TSA PreCheck to be covered for shortened screening processes that will limit the number of X-rays or pat downs you need to endure when you fly.

3. Packing medicine when you travel
Research local laws to know what medications can be brought to your destination. Follow airport rules to carry medications, like those for HRT, in your luggage. On the plane, you should keep medications in your carry-on luggage. They should be properly labeled in their original containers. If you take hormones, you are allowed to bring your vials and syringes in your carry-on, but you must put them in a separate zipper storage bag and include a copy of your prescription, according to the U.S. Travel Security Agency. When you're on your trip, keep medicines in a secure location, like a room safe, to prevent thefts. It's a good idea to purchase travel insurance before you go to cover any medical expenses should anything get lost or stolen while you're on your trip, or to ensure you're covered for sudden medical expenses.

Contact your travel insurance provider for further assistance.

The information contained here is provided by Brafton. AIG Travel assumes no responsibility for the use, accuracy, or interpretation of the information contained herein.